Pluta's Leap from the Dismal Science to the Joyful Arts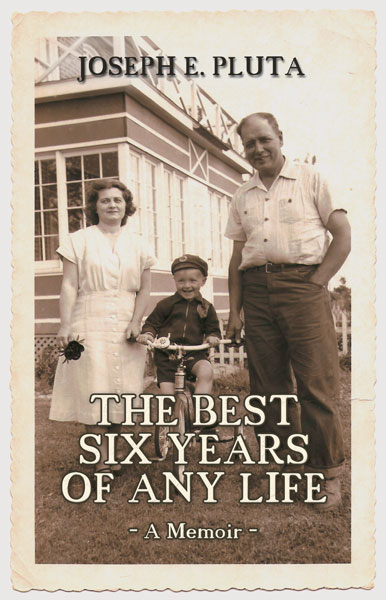 His credentials as a scholar and accomplished teacher well established, Dr. Joseph Pluta, a Professor of Economics at St. Edward's University, turned a few years ago toward new and creative endeavors. In memoir and in autobiographical fiction, he has recorded his early years growing up in the small community of New Buffalo, Michigan, and tried to immortalize some of the characters that he has gotten to know over the years.
Joe (as friends and colleagues call him) was born in Chicago, Illinois, but moved as an infant with his family to a farm in southwestern Michigan where he lived until he went off to college. Being an only child, he found work to be an excellent way to interact with people other than his parents. Growing up, he worked at a root beer stand and eventually managed a restaurant at age 16. After that, he worked at a pharmacy, which was the center of life in the small town. During that time, Joe watched, learned, and mentally recorded events that would eventually breathe life into his stories.
When Joe left home for school, he went to Notre Dame. He says his decision to major in economics was born of a lack of professional role models growing up. In his tiny hometown, there was a doctor, a lawyer, and a pharmacist. He knew he didn't want to be a pharmacist because he had already filled prescriptions and he didn't want to be a doctor because he couldn't stand the sight of blood. Therefore, he started his sophomore year as an economics major with the intent to go to law school.
After taking courses in business law and in labor law, young Mr. Pluta began to realize that the legal profession was not his calling in life. The reading material was a bit too dry. He went on to get his master's degree in economics at Notre Dame and, at age 20, was admitted into the Ph.D. program. However, his professors there advised him against getting all three of his degrees at the same university because going to a different school would expose him to new and different ideas. After being accepted into eleven different doctoral programs, Pluta decided that he liked the course of study at the University of Texas because it focused on applied economics rather than theoretical economics.
At St. Edward's University, Pluta has had a successful career as a writer of economics books and professional journal articles. He recently shifted, however, from the scholarly to the personal. Since 2010, he has published a childhood memoir, called The Best Six Years of Any Life, as well as three collections of autobiographical short stories: Small Town Michigan Tales ,  Two Peninsulas , and 21 Yesterdays. When asked why, after publishing books in economics, he pursued creative writing, he explained that he enjoyed the liberty that fiction allowed. His short stories are based on some personal experiences and different characters he has known, but he feels that he took enough creative license for the works to qualify as fiction. The memoir is based on what he admits was a lifetime of research into his very early childhood.
When asked what he has learned as an economist, teacher, memoirist, and fiction writer, Pluta replied, "I think it's important to have a broad-based education in large part because you change your mind, or you maybe even have to change careers. So if you're totally trained to do only one thing, and the job market in that area dries up, you may not be as well equipped to do something else if you don't have a broad education."
Joseph Pluta's leap from economics to autobiography and from textbooks to fictional stories, clearly illustrates that he is equipped with a broad and versatile education. His memoir and short story collections are available from Friesen Press.
by Daniel Hamilton
(The above article was published in the Winter 2013 issue of New Literati magazine.)