New Collection of Short Stories Published!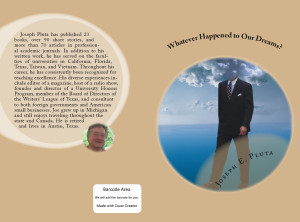 WHATEVER HAPPENED TO OUR DREAMS?
by Joseph E. Pluta
Distant Echo Press 2015
Available at Amazon.com and CreateSpace eStore
(click on photo to enlarge)
Meet a man who in 1976 offers a compelling claim that he knows who really killed JFK, an African American janitor who in 1954 becomes the most beloved mentor at a wealthy private elementary school, and a college dorm maid who in 1963 runs an off campus bar where she serves underage freshmen. Read first hand accounts of chronically inept university administrators and of corruption in the conduct of the Vietnam war. Witness the insight of a ten year old who teaches his elderly aunt a valuable lesson. Accompany a married couple who travel through beautiful British Columbia in search of a place to live and work.
These and other stories in this collection look beyond mere nostalgia for a past that may or may not have existed to capture various human emotions during different stages of life. The stories, fictional…….. or some maybe not so fictional, contain a mix of mystery, humor, romance, drama, and unique slants on major historical events.
Contents
1. My Vietnam Story
2. The Man Downstairs
3. Hilda
4. That Dreaded Fiftieth
5. Willie F. Quinn
6. The Ned Willis Saga
7. The Guest House
8. Aunt Phyllis
9. Living Two Lives
10. A Fundamental Kind of Girl
11. When Life Was Still in Front of Us
12. Do You Guys Actually Know the President?
13. Confusion and Secrets
14. The Perfect Canadian Small Town
15. Delusional
16. Patsy Valdespino
17. Some Perspective
18. Where is This Village?
19. A Life on Hold
20. Hatchet Woman
21. A Famous Mentor
22. Three Career Disappointments
23. Universities Are Dying
24. So You Want To Be A Writer