Description:
A casual walk through an orchard of diverse fruit trees may be an apt metaphor for life's unpredictable journey. Within this collection of over 100 poems, readers glimpse the beauty of nature along with sometimes harsh lessons of history and unintended effects of technology. They also explore the folly of misguided pursuits whether by heroes or adversaries and visit faraway places including the Roman Empire, medieval times, present day Asian cities, geographically spectacular Canada, contrasting American landscapes, and even distant planets. A varied cast of characters from Aesop to Hiawatha, Darwin to Rockefeller, Valentino to Capone, and popular musicians to refugees assist in bringing many of these notable settings to life. Broad in their focus, the poems share a common theme of human adventure and discovery.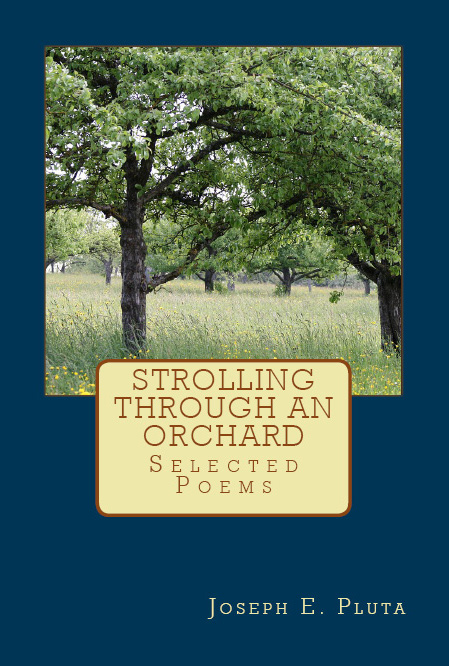 Advance Praise:
A man at home in many cultures, ancient Greece as well as the Ojibwe nation, Pluta uses images sharply, visually. His poems are a feast for the brain. He has capitalized beautifully on his many travels here and abroad, capturing both exotic and prosaic spots in poem after poem. Well read in history, Pluta uses poetry to bring past times into the immediacy they deserve. His poems enrich us, teasing us into pockets of lore we may have possibly never accessed before we read his poems.
George Klawitter, Author of: Let Orpheus Take Your Hand and The Agony of Words
Upon entering Joe Pluta's Orchard, one initially experiences an affable yet precociously rendered pastoral watercolor of sound and rhythm. In only a few pages we understand Pluta is not only a master of visual language but a secretly subversive environmental and social activist. The work is both expansive and inclusive. The author has traveled widely and has immersed himself in numerous cultures and settings, leading him to an unsettling view of the direction society is taking. Pluta strolls through this spacious collection with a level of conversational clarity rarely seen in contemporary poetry. He juxtaposes his most brutal observations with a humorous touch of light, giving us a moment to breathe between observations. His poems are a must-read for anyone concerned about the state of humanity.
Tony Burnett, Author of: The Reckless Hope of Scoundrels and Southern Gentlemen
Joseph Pluta's academic training is evident in a number of insightful poems on such topics as Aquinas and John Stuart Mill, ancient and modern history, and the consequences of political and financial greed. In lamenting the grinding poverty he has seen in New Mexico, Pluta speaks of Native Americans who "had been cast aside just like / industrial refuse the new / landholders no longer needed." Yet Pluta also sketches memorable reflections on his Polish grandparents, the farm life of his youth, and travels around the U.S. and various foreign locales. This wide-ranging collection is both informative and entertaining.
Chip Dameron, Author of: Drinking From the River and Waiting for an Etcher
Partial Contents:
1. The Orchard Comes to Life
2. Fast Forward
3. Publicity Engineers
4. Tahquamenon Falls
5. The Radio and Acceptance of Diversity
6. The Age of Pericles
7. A Tribute to All Places That House Books
8. Life During Prehistory
9. Coming Home to Roost
10. The European Medieval Village
11. A Perfectly Engineered Nightmare
12. Only Blocks From the Presidential Palace
13. Naturally Pure Indoor Air
14. The First Gilded Age
15. And So Began the Insanity
16. The Ultimate Irony
17. Our Once Fair City
18. Retreating Glaciers
19. Remembering Big Sur
20. Rowing on Lake Louise
21. Just Another Day in Bangkok
22. Dublin Pubs
23. My First Trip to Mississippi
24. A Dozen Depression Era Haiku
25. With Liberty and Justice for Some
26. The Train to Lillooet
27. Oases Are Too Often Mirages
Details:

Author
Joseph E. Pluta
Publisher
Distant Echo Press
Release Date
July, 2016
Book Type
Poetry
Length
158 pages
ISBN-13
978-1533555304
Where to Find: