Literary Works
Voyages Across Time
Published by Dzien Dobry Press, 2018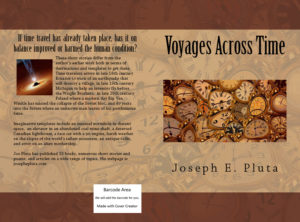 These short stories differ from my earlier work both in terms of destinations and templates to get there. Time travelers arrive in late 18th century Ecuador to warn of an earthquake that will destroy a village, in late 19th century Michigan to help an inventor fly before the Wright Brothers, in late 20th century Poland where a modern day Rip Van Winkle has missed the collapse of the Soviet bloc, and 40 years into the future where an unknown man learns of his posthumous fame. Imaginative templates include a unusual wormhole in distant space, an elevator in an abandoned coal mine shaft, a deserted Canadian lighthouse, a race car with a jet engine, harsh weather on the slopes of the world's tallest mountain, an antique radio, and error on an alien mothership.
If time travel has already taken place, has it on balance improved or harmed the human condition?
Thirteen Time Travel Templates
Published by Vanishing Glacier Press, 2018
An intriguing aspect of time travel plots is how the trip happens: time machine? interdimensional space-time portal? instant teleportation? awakening from a deep sleep? This collection of short stories explores different templates for getting there as well as what happens upon arrival. It also addresses in some hopefully innovative ways to what extent existing events can be altered by the traveler. In an age filled with disappointment and frustration, other eras past and future frequently offer greater fulfillment. Or do they?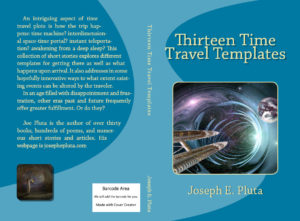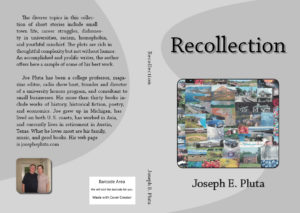 Recollection
Published by Vanishing Glacier Press, 2018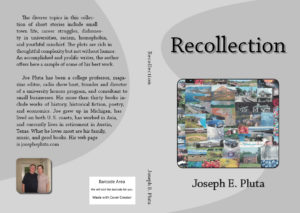 The diverse topics in this collection of short stories include small town life, career struggles, dishonesty in universities, racism, homophobia, and youthful mischief. The plots are rich in thoughtful complexity but not without humor. An accomplished and prolific writer, the author offers here a sample of some of his best work.
Poems Inspired By Waterfalls
Published by Vanishing Glacier Press, 2018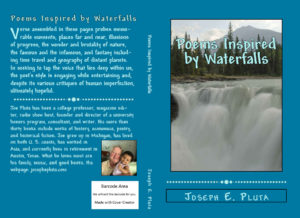 Poems explore nature in both its grandeur and anomalies, locations that offer contentment or anxiety, historical events and their cast of characters, and unusual experiences.
Partial Contents:
Colossal Cosmos / When Time Inverted / Michigan Winter / The Black Snake at Standing Rock / Wanted! A Rational Explanation / Self-Absorbed and Device Obsessed / What We Have Become / In Pursuit of Brain-Deadness / I Sure Do Miss Walter Cronkite / Vera Lynn at 100 / The Legacy of John Muir / Repetitive Torment / Clear Lake, Iowa / Carmel Valley Morning / Piedras Negras / On This Island / A Field of Wildflowers / The Power of Myth / Path to Unhappiness / Life in a Pre-Pesticide World / Will Humanity Prevail? / Finding Yourself When You Are Not Lost / The Girl Down the Hall / New Life
---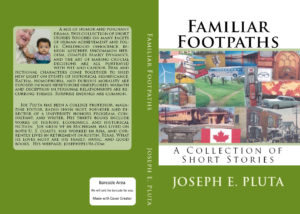 Familiar Footpaths
Published by Vanishing Glacier Press, 2017
A mix of humor and poignant drama, this collection of short stories touches on myriad facets of human achievement and folly. Childhood innocence, benign mischief, prudent trepidation, uncommon heroism, complex family dynamics, and the art of making crucial decisions are all portrayed with wit and candor. Real and fictional characters come together to shed new light on events of historical significance. Racism, homophobia, and dubious morality are exposed in ways heretofore unexplored; warmth and deception in personal relationships are recurring themes. Surprise endings are common.
---

Published by Distant Echo Press, 2016
Carefully selected from over 100 published short stories, this collection offers readers a sample of the written work produced during the career of a talented yet often overlooked author. An astute blend of solemnity and humor, specific topics include unique views on major historical events, small town life, racial conflict and harmony, blatantly scandalous behavior, uncommon situations, and unpredictability in romance. The stories are set in places as varied as Michigan's Upper Peninsula, northern California, and Asia. Their characters are as diverse as Buddy Holly and a man who flew before the Wright Brothers. Readers of these stories will see the world through the hopeful eyes of courageous refugees, innocent orphans, and dedicated teachers. They will also witness the carnage resulting from the always unprincipled and often treacherous minds of wicked pirates, pedophile priests, and inept overpaid university administrators.
More Info
---

Published by Distant Echo Press, 2016
A casual walk through an orchard of diverse fruit trees may be an apt metaphor for life's unpredictable journey. Within this collection of over 100 poems, readers glimpse the beauty of nature along with sometimes harsh lessons of history and unintended effects of technology. They also explore the folly of misguided pursuits whether by heroes or adversaries and visit faraway places including the Roman Empire, medieval times, present day Asian cities, geographically spectacular Canada, contrasting American landscapes, and even distant planets. A varied cast of characters from Aesop to Hiawatha, Darwin to Rockefeller, Valentino to Capone, and popular musicians to refugees assist in bringing many of these notable settings to life. Broad in their focus, the poems share a common theme of human adventure and discovery.
More Info
---

Published by Distant Echo Press, 2016
Follow the experience of a talented female refugee from Syria in an American small town, a young couple who become two of the many Vietnamese boat people, and faculty who struggle in a resource poor historically black private college. Witness both the skill of a psychologist whose advice to a troubled young woman enables her to achieve notoriety as a scientist and the mischievous ways of a ladies' man who receives his comeuppance in a most unusual way. These and other human interest themes are chronicled in this collection of short stories. The volume also includes more than thirty poems that capture images ranging from the beauty of nature to the chaos caused by human greed.
More Info
---

Published by Distant Echo Press, 2015
Meet a man who in 1976 offers a compelling claim that he knows who really killed JFK, an African American janitor who in 1954 becomes the most beloved mentor at a wealthy private elementary school, and a college dorm maid who in 1963 runs an off campus bar where she serves underage freshmen. Read first hand accounts of chronically inept university administrators and of corruption in the conduct of the Vietnam war.
This collection of 24 short stories looks beyond mere nostalgia for a past that may or may not have existed to capture various human emotions during different stages of life. The stories, fictional… or some maybe not so fictional, contain a mix of mystery, humor, romance, drama, and unique slants on major historical events.
More Info
---

Published by FriesenPress, 2013
Experience turn of the century life in a small Midwestern town where the visit of President McKinley causes reporters to miss a nearby manned flight more than four years before the Wright Brothers. Attend the last concert of Buddy Holly and Ritchie Valens in Iowa before their tragic plane crash in 1959. These and other historical events are presented through the interaction of real and fictional characters.
More Info
---

Published by FriesenPress, 2012
With humor and perceptive candor, the twenty-six short stories in this anthology build upon the author's earlier works on Michigan small town life.
More Info
---

Published by FriesenPress, 2010
This personal memoir of the author's early childhood takes place on a farm in southwestern Michigan during the late 1940s and early 1950s.
More Info
---

Published by FriesenPress, 2010
This collection of twenty-four short stories focuses on diverse experiences in small Michigan communities during the second half of the twentieth century.
More Info